what's the news
at Fringelove...
You have entered the realm of Fringe-Loving! the ONLY ring for Fringe-Loving fun! This ring is here for Fringe lovers of all ages. So we're here to unite admirers and obsessed fans of fringe cuties in bands, arts, school classes, and wherever you might find them. If you love fringes or love anyone who has/had a fringe, come on and join in the fun!!! Just click on


OK so I decided to redo this whole website! its pretty isn't it? well the linked pages arent all that exciting since i didnt change them but the front of the site is pretty. Damn brilliant right? I wanted to incorporate everyone's contributions into this one.


I guess I will try to get new things going since i am at work all day on the internet anyway... so why not edit HTML code? its fun. Any suggestions for the new page that will be updated probably bi-weekly? I want us to be a new and cool community together since we all love them fringes.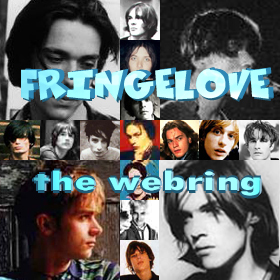 click on image for info
recent pages

Well I havent updated this site in lets see.... 2 years at least? And the List of Fringe Cuties IS UPDATED!!! It is also prettier than ever! I PROMISE YOU I will add as many of the emails as I got about the pictures and Fringe Cuties and whatnot. I will I will I will.... Note my full time job as of now and I can never go a day without the gym so more changes will wait for the weekend.


But for now you can still check out the fringe babes -- and yes I will be adding more soon since there have been TONS more beautiful artists out there!!


-- (12 June 2000).